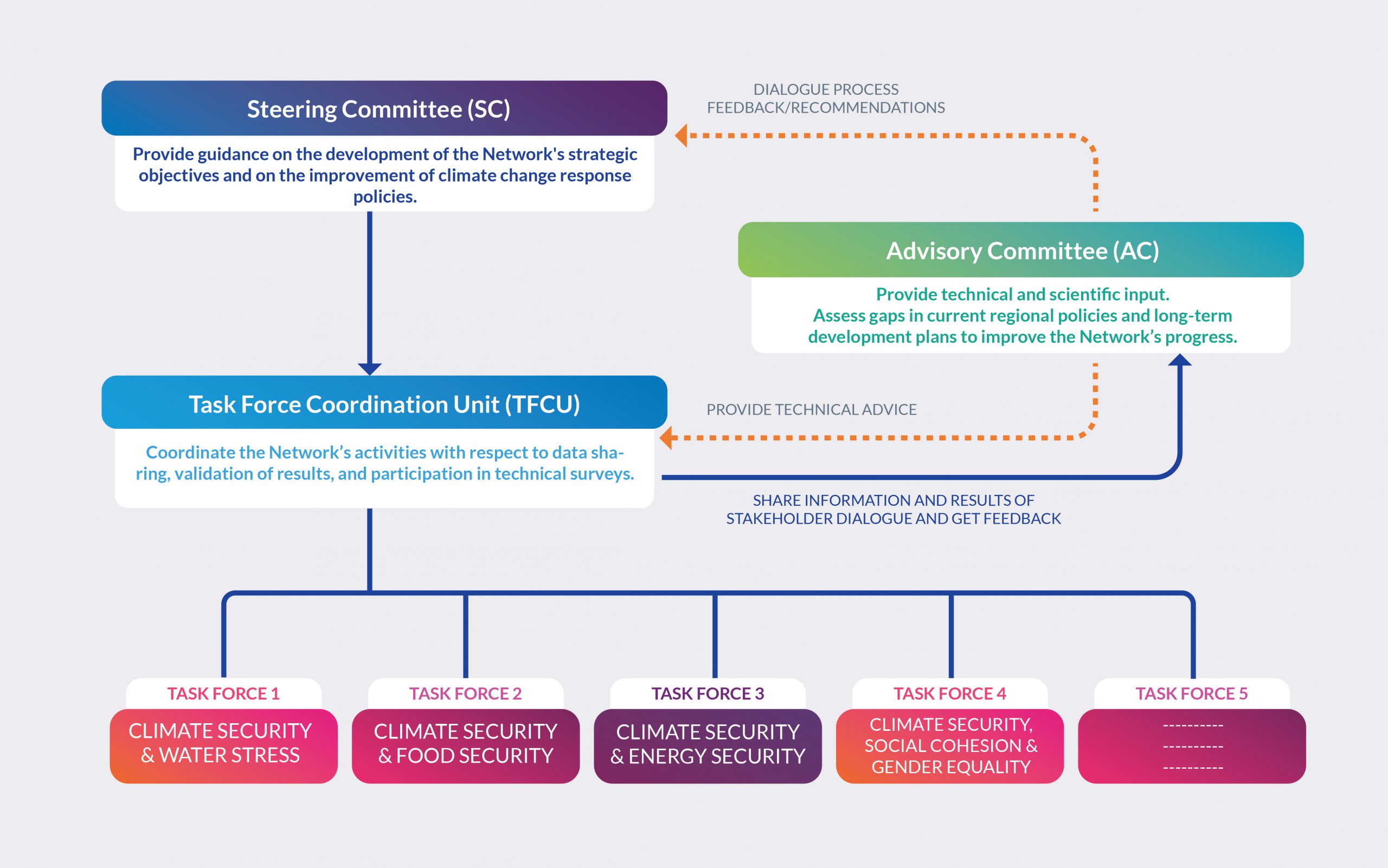 The role of the network Steering Committee will mainly focus on providing guidance with respect to the development of the Network strategic objective including:
Improving climate change response policies that would support the establishment of the Facility.
Exploring ways to maintain the network sustainability with respect to technical and financial capacities.
Supporting development of the network coordination mechanisms and engagement opportunities with relevant stakeholders and end-users on national, regional and global levels.
The role of the network Advisory Committee will mainly focus on:
Providing technical and scientific input.
Assessing gaps in current climate related policies and strategic frameworks
Drafting long term development plans to facilitate the network operation
Providing technical advice to the network members
There are many interactions between human security and natural resources that needs to be integrated for appropriate planning for Climate Security (CS) and Sustainable Development. Therefore, without comprehensively addressing the different aspects of CS, the Stakeholder Dialogue goals will be less effective and could fail to ensure sustainable development. Efficient planning for CS cannot be undertaken without careful consideration of the cross-cutting nature between humansecurity andnatural resources. Unless cross-cutting issues are considered, plans could be less  effective, sub-optimal in terms of their costs and benefits, or lead to unintended results.
Taking into consideration the climate change impacts on natural resources (water resources, agriculture, energy, and environment), and its linkages with DRR and human security systems, an integrated framework is needed to develop a shared vision and to operationalize the CS. To achieve this, stakeholders will be organized to constitute the Task Forces to be active during- and potentially after- the Dialogue activities. Therefore, four task forces will be established with main mandate of implementing the Dialogue activities in the following domans:
Water resources and sanitation
Agriculture and Food security
Energy and Ecosystems
Social Cohesion and Gender Equity
It is worth mentioning that the classification of the Task Forces aims at guiding  a more organized structure under each theme, however the engagement will involve all groups and results from each group will be shared among other groups to enhance the overall synergies
Water, Agriculture, Energy, and Environment are the key aspects of climate change which are essential for human wellbeing. For example, climate change can aggravate water scarcity, threatening food security by reducing agricultural productivity, which inturn result will affect Human security and displacement and may result in creating conflicts. Topics of human security and displacement, gender and women empowerment are also fundamental topics interlinked with the afore-mentioned topics (Water, Agriculture, Energy, and Environment).  Therefore each TF will ensure mainstreaming the topics of natural resources, socio-economic aspects, policy and governance during the Stakeholder Dialogue process from Visioning to Planning and Implementation. This involves discuss how the different climate change challenges will affect the human security and gender aspects, and ways to integrate these aspects in planning for CS interventions.
The core roles/mandates of the TF can be summarized as follows:
Preparing technical materials/inputs (representatives of each country will provide technical inputs about the current status of CS).
Coordinate the Network activities with respect to data sharing, results validation and participation in technical surveys to help better understand the regional context and facilitating building of countries risk profiles for the development of current case studies
Active participation in all workshops and associated discussions.
Participating in identifying and analyzing Dialogue issues/problems.
Developing shared vision and plans to improve the situation of climate change adaptation in the project areas.
Ensuring continuous communication and coordination with national and international bodies.
Taking lead in improving the response to climate change challenges in their organizations and countries.
Ensuring adequate coordination with the SC and AC during all stages of the Dialogue activities.